Album Review: "Skylight" by Pinegrove
In 2017, Pinegrove front man Evan Stephens Hall released a confusing statement on the band's Facebook page cancelling future tour dates following an accusation of sexual coercion. In his statement, Hall denied the accusation and described an off-and-on relationship that was "convoluted, heavy, emotional." He mentioned moments in the relationship that could have been misread, and how he did not consider his "position of power as a public figure, and also as a man." Hall mentioned "flirtatious" and "intimate" interactions with fans, saying he found his behavior inappropriate in hindsight.  He added that he started therapy before the statement and would continue indefinitely to improve his own mental health and treatment of others.
A longtime Pinegrove fan, I found Hall's statement confusing. It seemed lacking in important details that fans are still missing today. I wasn't sure if I wanted to keep listening to Pinegrove and supporting Hall as an artist.
On Sept. 28, less than a year after the start of Hall's mental health hiatus, Pinegrove released "Skylight", a melancholic and quiet record made in 2017 before the hiatus. Along with the record release, the band stated that all the proceeds from listens and downloads on their Bandcamp page would "be split evenly between Musicares, the American Foundation for Suicide Prevention, and the Voting Rights Project."
It's hard not to think about the allegation when listening to this album. It was hard for me to stream it because I felt like I was supporting a band that doesn't deserve it; sometimes it's difficult to separate the art from the artist.
However, "Skylight" is home to some of Pinegrove's most heartfelt and touching tracks.
After listening through the album for the first time I felt warm and impressed with how the record flows. Something that has always stuck with me about Pinegrove is Hall's lyricism. The simplicity of the words combined with beautiful melodies played on folk instruments makes the songs hard not sing along to. I found that even if I didn't know the words the first time through, the melodies stuck in my head after a single listen.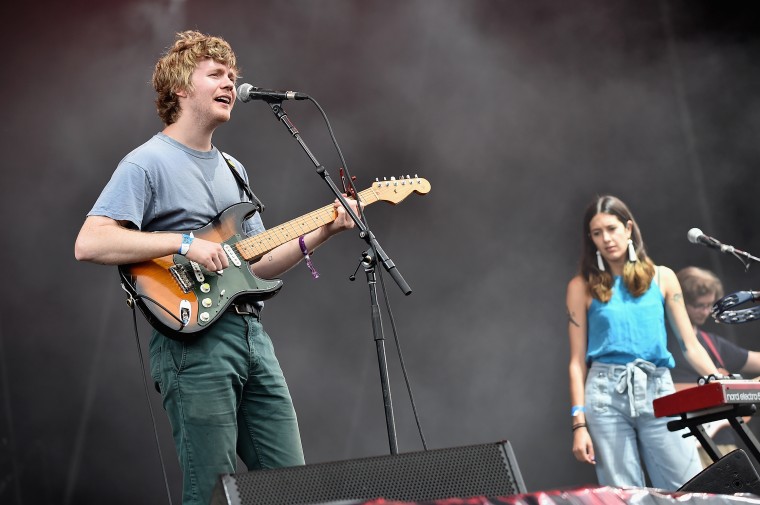 The song "Patterson + Leo" was the first to stick out to me. This slow song starts with very light and quiet harmonies of steel and acoustic guitars, all backed with a simple drum beat. The song overall serves as a thank you to Hall's friends, and the harmonies between the instruments and the vocals make the song heartfelt and relatable to listeners who love their friends. This song was originally from the European release of the album "Cardinal" in 2016.
Pinegrove dedicated two spots on the album for rereleases, a choice I initially found odd, but I was not disappointed in the changes made in each version, each having more harmonies and better drums. The recreation of the hit song "Angelina" has a louder and more punchy sound with a faster tempo. I personally like this version much more than the original. While I was writing this review, my girlfriend couldn't hold back from singing along to "Angelina" at the top of her lungs. It is such a fun song and the new album made it much better.  They also conveyed more emotion, with Hall leaving his lower singing notes to stretch and even scream at times.
The track "Darkness" is my favorite on the record.  This song reminded me why I still listen to and enjoy Pinegrove and why they are so much more than the slow and melancholic tracks they play. "Darkness" is super catchy from start to finish with a basic rhythm section and guitar interludes between each stanza of lyrics. The lyrics follow the simple and powerful style that made me fall in love with the band when I first heard songs from "Cardinal," their second studio album from 2016. Singing along to the lyrics, "saying I'm happy when I'm not" is fun and relatable every time. In a world where we are expected to be smiling and successful, the song relieves some stress and reminds you that you are not alone. Hall expresses his struggles with mental health and search for acceptance through beautiful metaphors of "lilacs blooming" and his mind being called the "driest land." I see myself someday dancing along to this track at a Pinegrove show, with tears and a smile on my face.


Other standout tracks continue the themes from "Darkness." "Easy Enough" describes getting out bed after a long depressive state. The title track, "Skylight," touches on weakness and natural emotions with the lyric, "Whatever you're feeling is all right, let you let go." The final song, "Light On," is a motivational piece about self-love and keeping your head up by "leaving the light on."
Hall wrote in an email newsletter announcing the single "Intrepid" from "Skylight" that "one of the things these new songs explore is the emotional & creative experience of geometric space. this song in particular considers distance, the outer rim of the magnet's pull. how the size of the world can bring our personal relationships into focus." "Intrepid" exhibits this perfectly, intertwining the ideas of mental health and shapes into one: "Take a rectangle, untangle your head." This song, about persuading people to love themselves before they can love others, is a shout out to anyone with mental illness.
The themes of mental health, struggles and self-improvement on "Skylight" scream at you in a whisper that is hard to forget. I will continue to listen to Pinegrove and hope that Hall was earnest about seeking help and changing for the better. I recommend this album fully as it is not only one of Pinegrove's best works, but a strong reminder that everything will be okay with patience and hard work.